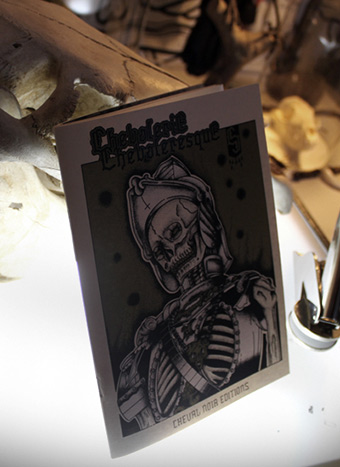 CHEVALERIE CHEVALERESQUE
Screen printed cover (white, gold & black) on ivory popset 260g paper. Pages on olin extra white 130g. Limited to 100 copies.
Starring : Mc Bess, Ugo Gattoni, Julien Anet, LN Becue, Hugues Irsut Chevallier, Jean-Michel Ouvry, Yohan Sacré, Fortifem, Leopold Geb, Romain Ehr, Ghislain Garlin, Dob(R)man, Mors, Lionel Serre, Ilk, Knapfla, Jeremy Boulard, Nicolas Tizieu, Neal Panda, Tristan Pernet, Antoine Dutoit, Pierre Bolide, Frederic Voisin, Sebastien Touache, Kim The Butcher, Nils Bertho, Amandine Urruty, Nikibi, Le Nad, Nicolas Barrome, Supakitch, Koralie.
http://www.chevalnoireditions.com/