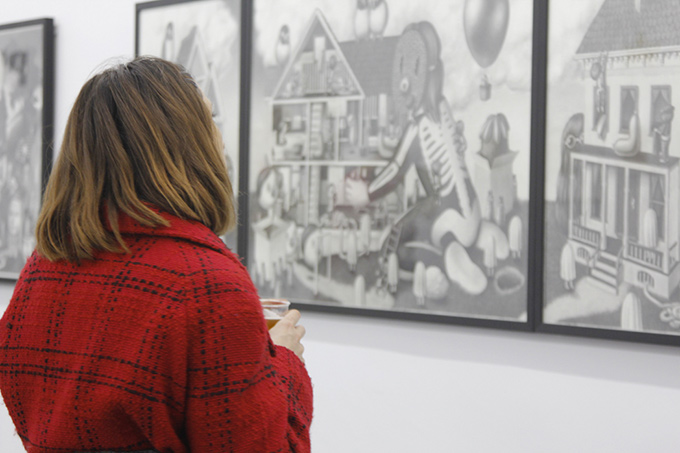 « Little Secrets », my solo show in Plastic Murs gallery, is displayed until January 21.
PLastic Murs, Calle Denia 45, 40006 Valencia, Spain.
DECEMBER 11 – JANUARY 21
The games chest of Amandine Urruty
Let's say this hypothetical chest belonged to someone like Amandine Urruty (Toulouse, 1982), an artist who, since childhood, has used drawing as a fun antidote to boredom. As an exercise in automatic writing, all this imagery would swirl in variegated scenes, filled with recognizable icons and invented characters interacting with each other as Lautréamont's sewing machine and umbrella on the dissecting table: uncomfortable and decontextualized but evoking a suggestive dialogue. If so, this unsettling bestiary that emerged spontaneously from the Urruty's chest, would have been created excluding any mediation of reason in the creative process and giving rise to all possible interpretations that, coinciding or not with those of the artist, would be as valid as diverse for each spectator or for the same spectator at different times and moods.
For even more capricious fantasizing, imagine that the artist used a simple tool such as graphite, forcing us to see her own world in grayscales; a swaying world, as she would say, "between the Baroque elegance and gross vulgarity". If such a thing happened, we could take delight with every detail of the drawing with the assurance that each new viewing would surprise us. All this would happen if, as Urruty, we would more often search for games in our chest and we would unabashed abandon ourselves to the dream of reason.
Here are a few photos of the exhibition.
http://www.plasticmurs.com/