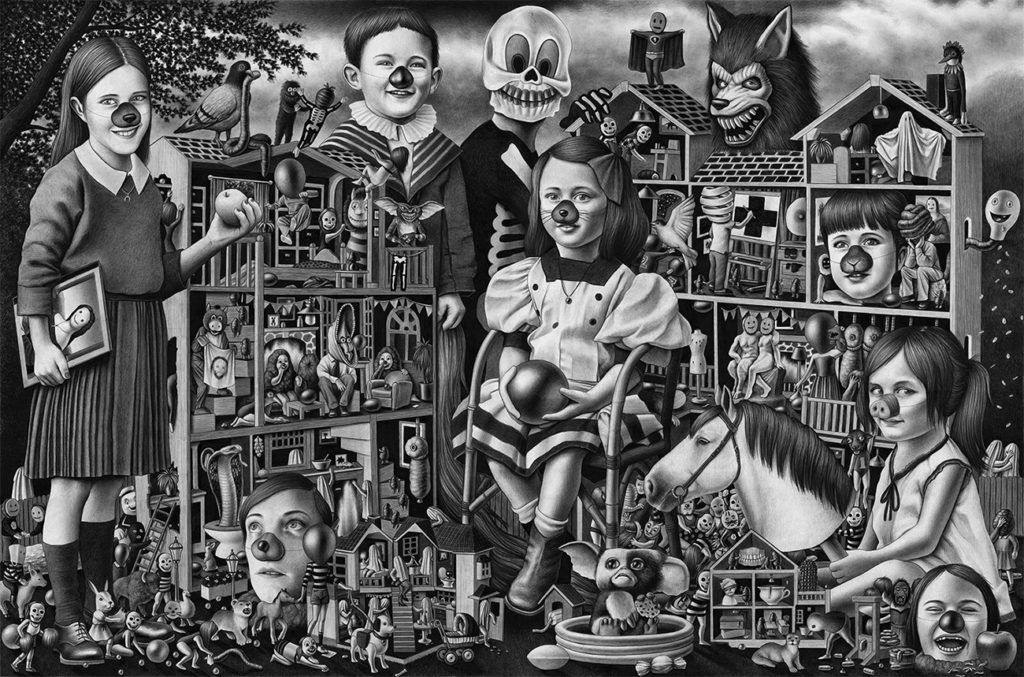 « Behind the doors » is now available on Limited by SOLO's website. 
A limited edition of 50 prints, numbered and signed, that have been designed for Limited by SOLO, a patronage project dedicated to share and support artists from Colección Solo.
Purchase it here : limitedbysolo.com

About the print (ESP) :
SERIE
Edición Limitada de 50 + 2 AP.
Firmada y numerada por la artista.
DIMENSIONES
62 x 88 cm.
MATERIAL
Photogravure sobre papel Somerset Satin de 300 gr.
FECHA
2021

Un 'jardín de las delicias' con espíritu travieso. Un decorado extraordinario donde conviven personajes icónicos de la cultura popular que bailan con fantasmas dentro de casas de muñecas transformadas en gabinetes de curiosidades. Niños disfrazados de animales; criaturas híbridas, un Guizmo asustado o un hombre lobo que nos sorprende detrás de un tejado. Behind the doors nos invita a entrar en el universo fantasioso de Amandine Urruty. Una mirada agridulce a un carnaval alocado. Jugando con el equilibrio entre un barroquismo elegante y ambivalente, esta obra es un excelente ejemplo de la mágica narrativa de sus reconocidas ilustraciones en blanco y negro.
Su maestría en el uso de la técnica de lápiz y carboncillo sobre papel se transforma ahora en una edición limitada de 50 prints, estampados desde un fotograbado a papel de gran calidad, y diseñados en exclusiva para Limited by SOLO.