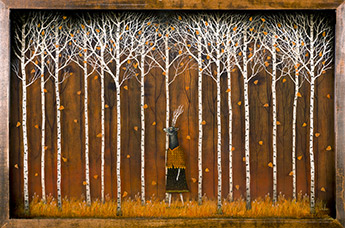 NEW YORK, NY (March 25, 2015) — Jonathan LeVine Gallery is pleased to present Oh, The Places We Have Been: Rediscovering the Past, a group exhibition featuring work by the following 34 artists who have helped shape the foundation of the gallery over the last ten years: AJ Fosik, Alex Gross, Amandine Urruty, Andrew Brandou, Andy Kehoe, Blek le Rat, Brett Amory, Dan Witz, Esao Andrews, Fabio D'Aroma, Gary Baseman, Gary Taxali, Jeff Soto, Jim Houser, Juan Francisco Casas, Kevin Cyr, Marc Giai-Miniet, Marco Mazzoni, Masakatsu Sashie, Mike Giant, Natalia Fabia, Nouar, Nychos, Olek, Paul Insect, Rafael Silveira, Sam Gibbons, Saner, Souther Salazar, Tara McPherson, Titi Freak, Victor Castillo, WK Interact
Oh, The Places We Have Been: Rediscovering the Past is a continuation of the gallery's tenth anniversary celebration and highlights a diverse group of artists who have been integral to our programming since our doors opened in 2005. Over the last decade Jonathan LeVine Gallery has exhibited over 300 artists. This exhibition pays tribute to the new and familiar faces we have seen along the way and showcases some significant works from our archives. Oh, The Places We Have Been is a retrospective of our past with an eye toward the future.
In conjunction with this show we will be offering limited edition prints from previously sold out editions and from our archives. These will become available on our online store on Thursday, April 2 at 6pm EST.
Picture by Andy Kehoe.

« Oh, The Places We Have Been:
Rediscovering the Past ».
April 2, 2015 through May 2, 2015
Jonathan LeVine Gallery
557C West 23rd Street
New York, NY 10011