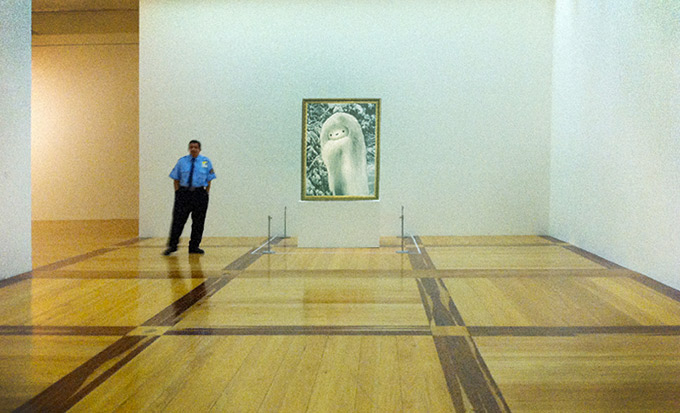 Pictoplasma and the Museum for Contemporary Art MARCO in Monterrey stage the first Mexican group exhibition on contemporary character design and art, bringing together new works by more than 120+ international artists, designers, illustrators, and filmmakers.
The Character Portraits exhibition examines the genealogical dimensions of figurative aesthetics in the postdigital age. As part of Pictoplasma's ongoing investigation into the limits of face creation and animism, the time-honoured genre of classical portraiture functions as an unifying format to reflect back on character genealogies and to preserve their essence for the future. Presenting paintings, busts, sculptures and animated video portraits by today's most influential creators of character-driven visuals, the exhibition also extends the list to accommodate the current obsession with self-portraits taken on a cellphone, gathered by Pictoplasma in an open call for #CharacterSelfies.
Featuring original and new work by: 3753% Tordal (NOR), Aaron Leighton (CAN), Aaron Stewart (USA), Adrian Sonni (ARG), Akinori Oishi (JP), Alex Godwin (UK), Allyson Mellberg Taylor (USA), Amanda Visell (USA), Amandine Urruty (FR), Andy Martin (UK), Anima Boutique/Eliza Jappinen (FIN), Animade (UK), Anna Hrachovec (USA), Bakea (ES), BeeKingdom (CAN), Ben & Julia (CH/FR), Ben Newman (UK), Boris Hoppek (DE), Brecht Vanderbrooke (BE), Brosmind (SP), Bubi Au Yeung (HK), Buff Monster (USA), Büro Destruct (CH), Charles Glaubitz (MX), Charles Huettner (USA), Christian Montenegro (ARG), Chu (ARG), Craig Redman (AUS), Dante Zaballa (ARG), David OReilly (IRL), Doma Collective (ARG), Doppeldenk (DE), Doudouboy (FR), eBoy (DE), El Grand Chamaco (MX), El Señor (ES), Faiyaz Jafri (NL), Felt Mistress (UK), Fluorescent Hill (CAN), Fons Schiedon (NL), Francisco Miranda (ARG), François Chalet (CH), Gangpol & Mit (FR), Gary Baseman (USA), Gary Taxali (CAN), Gemma Correll (UK), Geneviève Gauckler (FR), Hyein Lee (HK/CAN), Ian Stevenson (UK), Jan de Coster (BE), Jeanspezial (FR), Jeremy Dower (AUS), Jeremyville (AUS), Joel Trussel (USA), Jon Burgerman (UK), Jon Fox (UK), Jordan Metcalf (ZA), Joshua Ben Longo (USA), Juan Molinet (ARG), Juan Pablo Cambariere (ARG), JuJu (DE), Juliana Pedemonte (ARG), Julian Bonequi (MX), Kimiaki Yaegashi (JP), Koralie (FR), Kurt Separately (UK), Luke Ramsey (CAN), Marek Michalowski (USA), Mark Gmehling (DE), Mark Jenkins (USA), Matias Vigliano (ARG), Matt Jones (UK), Max Gärtner (DE), Melissa Godoy Nieto (MX), Motomichi Nakamura (JP), mr clement (HK), Mr. Kat (SP/PER), MyMo (DE), Nathan Jurevicius (AUS), Nick Sheehy (UK), Nina Braun (DE), Nomint (GR), Ori Toor (ISR), Osian Efnisien (UK), Peppermelon (ARG), Pete Fowler (UK), Peter de Sève (USA), Pic Pic André (BE), Pleix (FR), Raymond Lemstra (NL), Rilla Alexander (AUS), Roman Klonek (DE), Ryan Quincy (USA), Ryosuke Tei (JP), Sauerkids (NL), Sehsucht (DE), Shoboshobo (FR), Siggi Eggertsson (ISL), Slumberbean (UK), Sue Doeksen (NL), Tado (UK), Ted Parker (NL), The London Police (UK), Tim Biskup (USA), Tokyoplastic (UK), Ville Savimaa (FIN), Wayne Horse (DE), Will Sweeney (UK), Yeka Haski (RUS), Yves Geleyn (FR) and many, many more…
PICTOPLASMA MEXICO
September 19, 2014 – January 11, 2015
MARCO
Museo de Arte Contemporáneo
de Monterrey
Zuazua y Jardón S/N,
Centro. Monterrey,
N.L. México, 64000
Woohoo !
More infos on http://pictoplasma.com/