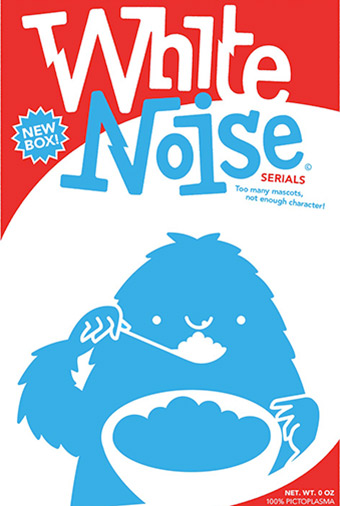 PICTOPLASMA – WHITE NOISE – MADRID
Group exhibition of Character Design and Art.
« Pictoplasma – White Noise » presents current artistic strategies that make use of mechanisms similar to those of commercial mascots, logos and trademarks to engage in a critique of the markets they have originated from, or to create a detached fetishized cult, with abstract mascots at its centre.
Featuring work by mr clement, Mark Gmehling, Tim Biskup, Juan Pablo Manzelli, Osian Efnisien, Jeremyville, Geneviève Gauckler, Craig Redman, Bakea, Amandine Urruty, Buff Monster, El Grand Chamaco, Ian Stevenson, Aaron Leighton, Raymond Lemstra, Sauerkids, Slumber Bean, Kurt Seperately, Juan Molinet, and many more…
May 23 – September 8
Las mascotas han sido importantes en el mundo de la publicidad desde su creación a principios del siglo XX cuando eran las representantes de logos, y lo siguen siendo a día de hoy, cuando se han convertido en un fenómeno a nivel artístico. Todos reconocemos de un solo vistazo al muñeco de Michelín, al gallo de los cereales Kellogg's o a las simpáticas chocolatinas de M&M's, asociándolos a sus respectivas marcas comerciales. Todas estas mascotas tienen la particularidad de que, tanto ellas como sus equivalentes en la animación y el cómic, son icónicas y no narrativas, lo que hace que podamos identificarlas con mucha más facilidad y que permitan una evolución del propio personaje a lo largo del tiempo.
Estas mascotas serán las protagonistas de la exposición que inauguraremos el próximo 23 de mayo en La Casa Encendida: "Pictoplasma – White Noise: Creación de personajes en el diseño y las artes gráficas". La muestra está dedicada a la estrategia artística de apropiación, rediseño y creación de mascotas, presentada fuera de sus contextos originales de uso, disfrutando estos personajes de libertad.
La Casa Encendida
Ronda de Valencia 2
28012 Madrid, Spain
http://pictoplasma.com/
https://www.lacasaencendida.es/