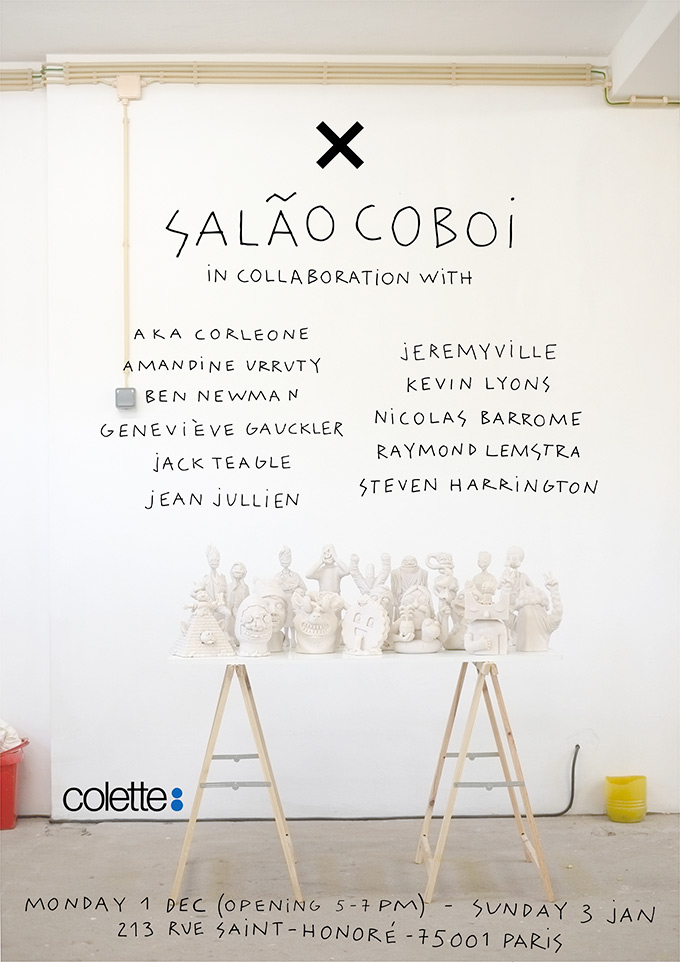 Salao Coboi's Collab Show – « X » – Colette – Paris
For his first exhibition at colette Paris , Salão Coboi decided to invite the coolest guys around to contribute with an illustration. The result of these collaborations is a limited edition of unique sculptures based on the illustrations, a mashup between each artist's and Salão Coboi's universe.
Salao Coboi combined special powers with: Amandine Urruty (FR), Akacorleone (PT), Ben Newman Illustration (UK), Genevieve Gauckler (FR), Jack Teagle(UK), Jean Jullien(FR), Jeremyville (AUS), Kevin Lyons (USA), Nicolas Barrome Forgues (FR), Raymond Lemstra (NL) and Steven Harrington (USA).
Prints will be available et Colette as a 59,4×42 cm print, limited edition of 15.
Also invited to this exhibition are the best-dressed sculptures ever. Inspired by key pieces of
runway shows/brands, "THE 9 WORTHIES" are a limited edition of resin sculptures that SalãoCoboi created in collaboration with Carla Cardoso (stylist).
Opening : December 1, 17h-19h
Show : December 1, 2014 – January 3, 2015
Colette, 213 rue Saint Honoré, 75001 PARIS
http://www.colette.fr/