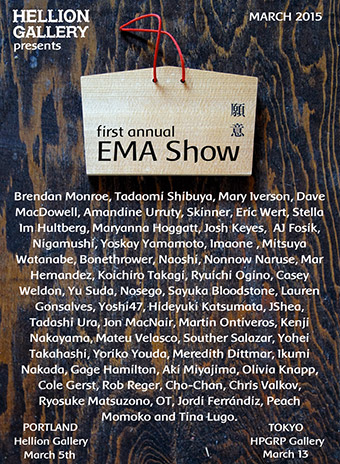 Featuring – Brendan Monroe (US), Tadaomi Shibuya (Japan), Mary Iverson (US), Dave Macdowell (US), Amandine Urruty (France), Skinner (US), Eric Wert (US), Stella Im Hultberg (US), Maryanna Hoggatt (US), Josh Keyes (US), AJ Fosik (US), Nigamushi (JAPAN), Yoskay Yamamoto (US), Mitsuya Watanabe (JAPAN), Naoshi (JAPAN), Nonnow Naruse (JAPAN), Mar Hernandez (SPAIN), Koichiro Takagi (JAPAN), Ryuichi Ogino (JAPAN), Casey Weldon (US), Yu Suda (JAPAN), Nosego (US), Sayuka Bloodstone (JAPAN), Lauren Gonsalves (US), Yoshi47 (Japan), Hideyuki Katsumata (JAPAN), JShea (US), Tadashi Ura (Japan), Jon MacNair (US), Martin Ontiveros (US), Kenji Nakayama (Japan), Mateu Velasco (Brazil), Souther Salazar (US), Yohei Takahashi (Japan), Yoriko Youda (Japan), Meredith Dittmar (US), Olivia Knapp (US), Ikumi Nakada (JAPAN), Meredith Dittmar (US), Gage Hamilton (US, Aki Miyajima (JAPAN), Cole Gerst (US), Rob Reger (US), Cho-Chan (Japan), Chris Valkov (US), Ryosuke Matsuzono (JAPAN), OT (JAPAN), Peach Momoko (JAPAN), Jordi Ferrándiz (SPAIN), Kousuke Shimizu and Tina Lugo (US).
Opening this March, the first annual Ema show.
Ema are small wooden plaques on which Shinto worshipers write their prayers or wishes. The ema are then left hanging up at the shrine, where the kami (spirits or gods) receive them. They bear various pictures, often of animals or other Shinto imagery, and many have the word gan'i (願意), meaning "wish", written along the side. In ancient times people would donate horses to the shrines for good favor; over time this was transferred to a wooden plaque with a picture of a horse, and later still to the various wooden plaques sold today for the same purpose.
Opening March 5th, 6pm at Hellion Gallery in Portland (3 days only, closes on March 7th)
Opening March 13th, 7pm at HPGRP Gallery in Tokyo (closes on March 23rd)