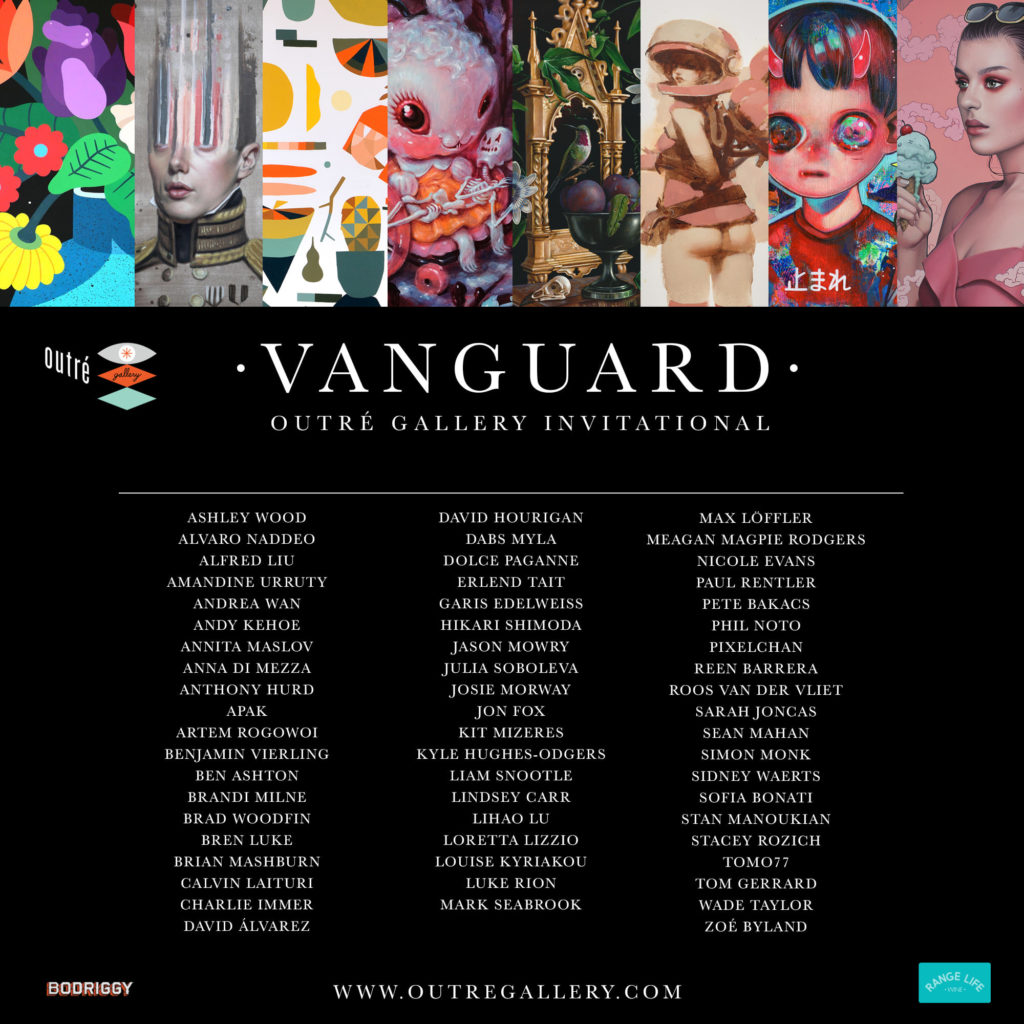 International Invitational Group Show
Outré Gallery Fitzroy
10 September – 3 October 2021

Outré Gallery is proud to announce the VANGUARD Invitational, an exhibition featuring artists who are leading the way in their creative practices and forging ahead in new frontiers and expressions. Each artist brings something totally exceptional to the table – from their conceptual execution and technical skill, to their innovation, creative vision and idiosyncratic flair. Many of the artists invited to this show have never exhibited with us before, and we are so excited to share their work on Australian soil.
Participating Artists
Ashley Wood / Alvaro Naddeo / Alfred Liu / Amandine Urruty / Andrea Wan / Andy Kehoe / Annita Maslov / Anna Di Mezza / Anthony Hurd / Apak / Artem Rogowoi / Benjamin Vierling / Ben Ashton / Brandi Milne / Brad Woodfin / Bren Luke / Brian Mashburn / Calvin Laituri / Charlie Immer / David Álvarez / David Hourigan / Dabs Myla / Dolce Paganne / Erlend Tait / Garis Edelweiss / Hikari Shimoda / Jason Mowry / Julia Soboleva / Josie Morway / Jon Fox / Kit Mizeres / Kyle Hughes-Odgers / Liam Snootle / Lindsey Carr / Lihao Lu / Loretta Lizzio / Louise Kyriakou / Luke Rion / Max Löffler / Mark Seabrook / Meagan Magpie Rodgers / Nicole Evans / Paul Rentler / Pete Bakacs / Phil Noto / Pixelchan / Reen Barrera / Roos van der Vliet / Sarah Joncas / Sean Mahan / Simon Monk / Sidney Waerts / Sofia Bonati / Stan Manoukian / Stacey Rozich / Tomo77 / Tom Gerrard / Wade Taylor / Zoé Byland
More infos on outregallery.com

OUTRE GALLERY
319 Smith Street, Fitzroy, VIC 3065, Australia
Monday–Friday 11:00am–5:30pm
Saturday 10:00am–5:30pm
Sunday 12pm–4pm