About Amandine Urruty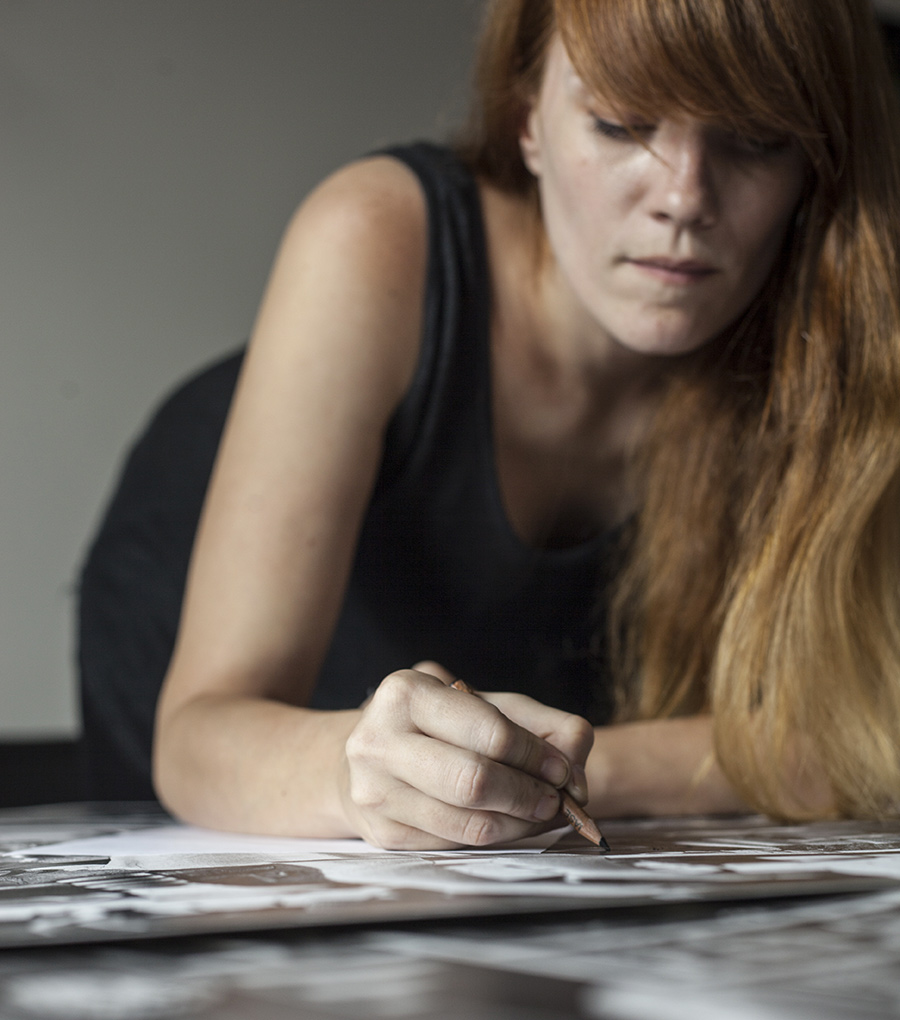 Amandine Urruty lives and works on her bed, in Paris, with a suit case full of pens always nearby. After studying at University for long years and a brief career in underground music, now Amandine Urruty spreads her gallery of weird characters on all kind of mediums, on paper as on walls. As she masters techniques of traditional drawing, Amandine Urruty offers us a cheerful gallery of deviant portraits, associating grotesque outfits with baroque decorum. A way to miraculously reconcile lovers of alchemistic symbolism to young ladies with too much make up. Indeed, Amandine Urruty builds her images like we would wander in the alleys of a Sunday fee market, borrowing to the mass of objects and to second hand toys their fundamental ambivalence, being wicked and peaceful, decorative and saturated at the same time. Since the beginning of her career, more than ten years ago, she took part in more than seventy exhibitions around the world. She also published four monographic books : « Robinet d'Amour » (Les Requins Marteaux) in 2011, « Dommage Fromage » (United Dead Artists, 2014), « Certains l'Aiment Chiot » (Critères, 2018) and « The Party » (United Dead Artists, 2018) . Her activity is now shared between exhibitions, illustration and a bit of wall painting.
(FR) Amandine Urruty est née en 1982, vit et travaille à Paris. Après avoir passé une enfance sans histoires, trompant l'ennui entre le poney club du mercredi après midi et l'étude de l'œuvre dessinée d'Edika, Amandine Urruty quitta le domicile familial afin de s'élever socialement et d'étudier les Arts Plastiques à Toulouse, où elle côtoya divers artistes maudits locaux. Une décennie plus tard, elle interrompit, pour d'obscures raisons, une carrière prometteuse de chanteuse à voix, et décida de se consacrer, non sans une certaine candeur, à ses premières amours à savoir la peinture animalière et la représentation de nu callipyge sur différents supports: prospectus, toiles monumentales, corps de popstar française …
Armée d'une solide technique du crayon, elle puisa son inspiration dans les tableaux de Jérôme Bosch et dans la lecture du Nouveau Détective, brassant dans son sillage les amoureux de symbolique alchimique et les adolescentes plantureuses (un peu) vulgaires. En résulte une œuvre baroque jouant un numéro d'équilibriste sur la frontière qui sépare l'élégance la plus noble de la vulgarité la plus crasse, telle une improbable rencontre entre le Muppet Show et le Moyen-Age fantastique.
STUDIES
Master of Philosophy (Art) / D.E.A. d'Arts Plastiques – Toulouse
SOLO SHOWS
2023
Toys'n'Traumas – Galerie Dys – Bruxelles
Dramarama – La Mauvaise Réputation – Bordeaux
The model – Galerie Arts Factory – Paris

2021
The most incredible things – Magma Gallery – Bologna
2020
Made In The Dark – Dorothy Circus Gallery – London
2019
Disputatio – Galerie DYS – Bruxelles
Cabin Fever – La Mauvaise Réputation – Bordeaux
2018
Mini Solo Show – Copro Gallery – Los Angeles
The Party ! – Arts Factory – Paris
2017
Mini Solo Show – Copro Gallery – Los Angeles
2016
3 Artist Show – Corey Helford Gallery – Los Angeles (Mini Solo)
Honey Honey – Hellion Gallery – Portland
2015
Little Secrets – Plastic Murs – Valencia
Bedtime Stories – La Halle Saint Pierre (en parallèle de Hey ! Act III) – Paris
2014
Dommage Fromage – La Mauvaise réputation – Bordeaux
Dommage Fromage – Arts Factory – Paris
2013
Chiot Devant – Le Lieu Unique – Nantes
2011
Solo Chiot – La Mauvaise Réputation – Bordeaux
Solo Chiot – La Place Forte / Arts Factory – Paris
2008
Des Etoiles Plein Les Fesses – GHP – Toulouse
SELECTED GROUP SHOWS
2023
Hi Fructose Invitational Show 2023 – Arch Enemy – Philadelphia
Tod und Teufel – Kunstpalast Museum – Düsseldorf 
The Blab ! Show #18 – Copro Gallery – Los Angeles
Existential – Antler Gallery / Thinkspace Projects / Talon Gallery – Portland
Dream State – Stolenspace Gallery – London

2022
Moleskine Project x Harman Projects – Mesa – USA
Platinum Group Show – Stolen Space Gallery – London
Inside Draftswomen #3 – Feinkunst Kruger Gallery – Hamburg

2021
Même pas mort ! – 30 ans des Requins Marteaux – Fabrique Pola – Bordeaux
Vanguard Group Show – Outré Gallery – Melbourne
LA Art Show – w/ Copro Gallery – Los Angeles
Dark Art 2021 – Beinart Gallery – Brunswick – Australia
The Moleskine Project X – Spoke Art – San Francisco
Dream Bags & Jaguar Shoes – Kirk Gallery – Aalborg – Denmark
🔴⚫ Group show – Galerie LJ – Paris

2020
The 15th Annual Blab ! Show – Copro Gallery – Santa Monica
DDessin Art Fair – Bim Bam Gallery – Paris
White Spirit – Memento – Centre d'Art Contemporain – Auch

2019
Don't Wake Daddy XIV – Feinkunst Krüger – Hamburg
Memory Group Show – Bim Bam Gallery – Paris
Art Elysées 2019 – With Galerie Joël Knafo – Paris
District 13 Art Fair with Dorothy Circus Gallery – Paris
Cuadratura – Galeria Kreisler – Madrid
Teenage Kicks 2019 – Graffiti Festival – Rennes
Pampre It Up – La Mauvaise Réputation – Bordeaux
Cuadratura – Curated by Ink and Movement – Santander
Small Works – Beinart Gallery – Brunswick – Australia
Mother & Child – Dorothy Circus Gallery Rome & London
Urban Art Fair Paris – w/ Hey ! Modern Art & Pop Culture
2018
Don't Wake Daddy XIII – Feinkunst Krüger – Hamburg
IAM Friends – Curated By Ink And Movement – Galeria Kreisler – Madrid
Cuadratura – Curated by Ink and Movement – Santander Art Fair
Monsters of Drawing – Feinkunst Kruger Gallery – Hamburg
2017
Pages From Mind Travelers Diaries – Dorothy Circus Gallery 10th Anniversary – Rome
The Blab ! Show – Copro Gallery – Santa Monica
Marquis de Sade 1977 – 2017 – Teenage Kicks / Les Ateliers du Vent – Rennes
Something Strange in the Neighborhood – Feinkunst Kruger – Hamburg
Theriomorphism IV – Ink & Movement / Galeria Kreisler – Madrid
LA Art Show 2017 w/ Copro Gallery – Los Angeles
Le Monde à l'Envers – La Mauvaise Réputation – Bordeaux
2016
Don't Wake Daddy XI – Feinkunst Kruger – Hamburg
Corey Helford Gallery's 10 Years Anniversary Exhibition – Los Angeles
Cluster – Jonathan LeVine Gallery – New York
LA Art Show – w/ Copro Gallery – Los Angeles
Lápiz, Papel o Tijera – Plastic Murs – Valencia
Urchins – Lump – Raleigh
20×16 – CASS Contemporary – Tampa
2015
AQUA Miami – w/ CASS Contemporary – Miami
SCOPE Miami – w/ Copro Gallery – Miami
Corrosively Bright – CASS Contemporary – Tampa
Un Dessin est Beau si la Ligne est Vivante – Le Pilori – Niort
Oh, The Places We Have Been – Jonathan LeVine Gallery – New York
Welcome Home – Plastic Murs – Valencia
The EMA Show – Hellion Gallery – Portland / Tokyo
The Lost Mitten Society – Annual Winter Salon Show – Jonathan LeVine Gallery – New York
2014
X – Collab Show with Salao Coboi – Colette – Paris
Knotenpunkt Festival / Affenfaust Gallery – Hamburg
Pictoplasma's Portrait Gallery – Mexico – Museo de Arte Contemporaneo de Monterrey
Pictoplasma's Portrait Gallery – Berlin
B&B Winter Group Show – Bradbury & Blanchard – Sheffield
2013
White Noise – Pictoplasma – La Casa Encendida – Madrid
Rêves – L'Attrape-Rêve Galerie – Paris
Famille Recomposée – Jekyll & Hyde – Open Space Gallery – Paris
Bukruk – Thai – Europe Connection – Bangkok Art and Culture Center – Bangkok
2012
Pictoplasma XXL # 2 – Berlin
Arts Factory Winter Show – Paris
Pure Drawing – Spacejunk Gallery – Bayonne – Grenoble – Lyon – Bourg Saint Maurice
Quarante par Trente – Galerie LJ – Paris
Rencontres du 9ème Art – Aix-en-Provence
2011
Pictoplasma's Character Walk – Galerie LJ – Paris
La French Touche – Sergeant Paper – Paris
Hey ! – Halle Saint-Pierre – Paris
Estivale 2011 – Galerie LJ – Paris
Crème de la crème – Pictoplasma's Character Walk – Berlin
2010
Fondation Méroll pour l'Art Contemporain – Espace Beaurepaire – Paris
Sweet Streets 2 – Nucleus Gallery – Alhambra – California – USA
Park'n'Rock – La Villette – Paris
School's Out – Artoyz – Paris
Burning Ink – Bleu Noir – Paris
Pen to Paper – Galerie LJ – Paris
Itinéraires graphiques – Lorient
Paris Calling ! – Arts Factory / Mekanik Strip / Anvers
2009
Arts Factory Winter Show – Espace Beaurepaire – Paris
Le Bureau des Ouragans – Lieu Commun – Toulouse
Slick – 104 – Paris
Rock Art – Rock en Seine
Drawing Group Show – Galerie LJ – PAris
Stringbreak – GHP – Toulouse
Petits Papiers – Blois
Forward 3 – Agnès B. – Paris – New York
2008
Roadstrip – Colomiers
Trois Jambes, Un Bigoudi – Lyon
Panos, Fake Roadsigns – Lyon
Whaleless, True Hate Gallery – La Rochelle
Une Estivale 2008 – Galerie LJ Beaubourg – Paris
Group Show – Andeken Gallery – Denver – USA
Freaks Club – L'art de Rien – Paris
L'Ecole de Toulouse – L'art de Rien – Paris
Group Show w/ Studioburo – Recyclart – Bruxelles
The Bic Show – L'Art de Rien – Paris
Ho, Ho, Ho – GHP – Toulouse
CONFERENCES / LECTURES
Pictoplasma – Berlin – April 2011 – Kino Babylon
Pictoplasma – Paris – December 2011 – La Gaité Lyrique
Pictoplasma – New York – November 2017 – Parsons School of Design
WORKSHOPS
September 2012 – For the Eurocultured Festival – Turku – Finland
February 2014 – ECV Paris – France
MONOGRAPHIC BOOKS
« Amandine Urruty, je veux dire le fantôme », with Pacôme Thiellement, Editions de l'Eclisse, 2021
« The Party », United Dead Artists, 2018
« Certains l'Aiment Chiot », with Elodie Cabrera, Critères Editions, 2018
« Dommage Fromage », United Dead Artists, 2014
« Robinet d'Amour », Les Requins Marteaux, 2011
SELECTED PUBLICATIONS
Graphite, victionary / Graphite Art Magazine #66 / Dark Inspiration 20th anniversary, victionary / Graffiti Art Magazine #56 / « Mauvais Genres », France Culture / Guide de l'Art Contemporain Urbain 2020 / Fluide Glacial Or Série Epouvante, 2019 / Fluide Glacial, Décembre 2018 / Guide de l'Art Contemporain Urbain 2018 / New York Times, October 31, 2018 / Nova, mars 2018 / Beaux-Arts Magazine, mars 2018 / Etapes, mars 2018 / Libération, March 25, 2018 / France Culture, « Mauvais Genres », March 24, 2018 / Graffiti Art Magazine #35 / Hi-Fructose vol.44 / IDN v23n1 / Bright Diaries #6 / Dark Inspiration II (cover and foreword, Victionary Publishing) / Joia Magazine #38 / Hi-Fructose's blog, December 15, 2014 / Graffiti Art Magazine #23 / Hey #20 (Ankama) / « Pictoplasma – Character Portraits » (Pictoplasma) / « The Drawer » vol.7 / « Body Frequencies » (Popper) / « Life After Death » (Popper) / « Franky » (Les Requins Marteaux) / Fine Rats / « La Tranchée Racine » (United Dead Artists) / « Character Compendium » (Pictoplasma) / Curvy #7 / Hey #3 (Ankama) / « Sweet Illustration » (Monsa) / « The Garden of the Eye Candy » (BigBrosWorkshop) / Pictoplasma's Pictarot / « Flying Graphics » (Monsa) / Etapes #161 (cover)…
ILLUSTRATIONS FOR
Time Magazine / New York Times for Kids / New York Times / Ogilvy / Le Monde / Ikea / Les Inrockuptibles / Libération / Le Nouveau Casino / Arte Creative / Anorak Magazine / Fluide Glacial / Les Requins Marteaux / Maintenant Festival / Rock en Seine / Wombat / Nike Sportswear…